Dear Fifa 16,
This is really hard to write down, to put down in words, to articulate, but, I think I may have reached the end. We've reached a dark, dark place and, well, I'm not sure there's any return.
That's not to say there haven't been good times. I've had a long relationship with many of your peers. Who can forget the joys of Fifa 98 (Road To The World Cup) when I took Barbados to the World Cup and won thanks to a double-hat trick of overhead kicks – i nearly cried.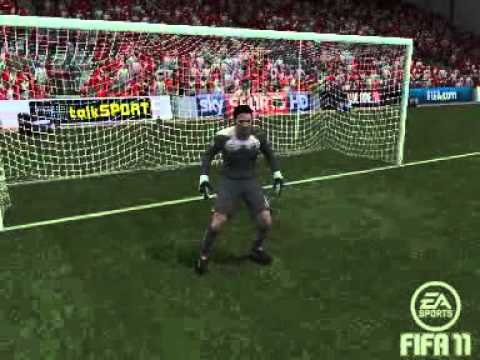 Or Fifa 11 when in the last game of the season I needed to beat Chelsea away with Newcastle to win the league – Danny Simpson passed the ball to goalkeeper Steve Harper who ran, my how he ran, he ran past Drogba and Anelka, played a quick one-two with Joey Barton, overran the Chelsea midfield leaving Frank Lampard for dead before a rainbow kick, flick and volley bypassed Terry and Cech and sealed the title in the 93rd minute. There was even the majesty of Fifa 14… We were inseparable for a long time, trading Ultimate Team players like an elite stock exchange trader, for a while I was on top of the world.
Which is why it's so hard to say this now, we've fallen out, we've hit a 12 game losing streak from which there seems to be no light at the end of the tunnel, no joy waiting, the trophies have dried up and left only despair. But where did it all go wrong? That's what I hear you ask.
Maybe it was that shooting has become near impossible where an open goal causes footballing premature ejaculation for any member of my team who might be in the unfortunate scenario where there's the possibility of scoring. Perhaps it was when I played online and was losing 7-0 to a Spanish teenager who had yelled "you shit fucker" down the microphone directly into my ears before demonstrating precisely how to score with a Rabona Flick with Carlos Tevez. Is there a chance that it was, while playing Career mode, my star goalkeeper who i nurtured from a 67 rated 16 year old to a 83 rated 21 year old was sold, by my board, without asking, for 50p and a curly whirly.
Yes it's all of those things. But the worst was this.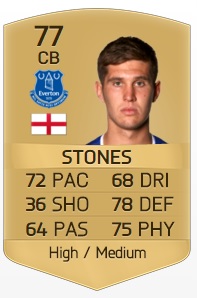 John Stones.
John "the Everton defender" Stones.
Now you're probably thinking, now come on, you can't blame John Stones, and I must be up front, I'm not. It was an incident that happened with him that turned the game for me, turned it from a thing of beauty to a thing of despair.
I signed John Stones and he has consistently been the best player in my team. He passes better than Xavi, shoots like Koeman, defends like Maldini mixed with Rio Ferdinand mixed with Zeus, King of the Gods and never complains, never waivers and never tires. But in this fateful game, the twelfth defeat in a row we connected. I was playing online against, what I assume was a Dutch teenager, and although he beat me it was the manner in which it happened that was the problem.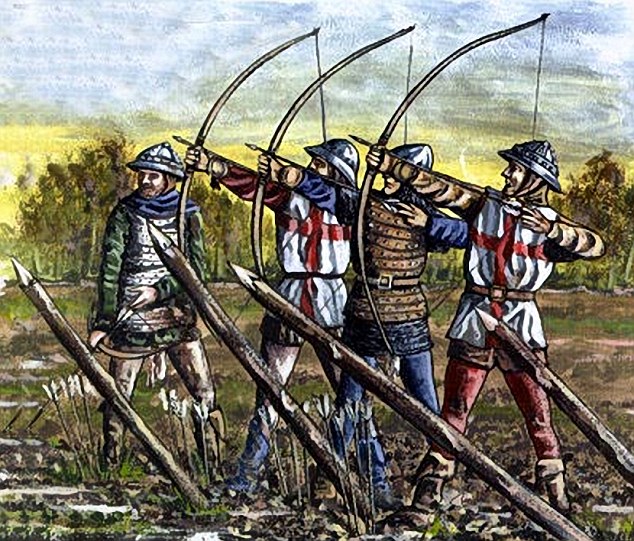 We'd battled, it'd been like Agincourt, epic to the very last. We were headed to a draw, a draw, a step in the right direction, the type that a Newcastle supporter (as I am) would describe as "a good win". It was nil-nil, the final moments ticking away, my defense wasn't so much parking the bus as creating a blockade with coaches, buses, 747s and tanks. It was to be a moment to celebrate.
Then it happened. John Terry. John Terry surged forward for the opposition, past one, past another, the crowd held their breath, "what was happening" they wondered aloud and in superb animation. He slid through my entire team like a hot knife through butter, warm butter, melted butter.John Stones looked for anyone to make the tackle but knew it was down to him and so slid perfectly to take the ball from the menace's feet, a beautiful motion, like an ice skater winning the Olympics or Swan Lake's finale. The ball fell to my other central defenders feet (who shall remain nameless for now), and he booted it hard and away from goal.
Or at least he tried to.
The ball hit the back of one of my midfielders (Colback) and almost in slow motion (and later actually in slow motion) ricocheted backwards, over the keeper, over the defender, past the last man and into the net consigning me to yet another defeat. The whistle blew and the camera turned to John Stones. John Stones who'd given his all, who'd been a lion amid lambs, and he looked directly at the camera.
I don't know if you've ever seen an animated graphically rendered John Stones look at you directly through the TV with sad eyes. It broke my heart.
So that Fifa 16 is why I'm taking a break – why I need some space, why I gotta get out of this place. It's not me, it's you, and you've become a dick.
Best, your former friend, Sam.
Enjoyed this? Give it a share!