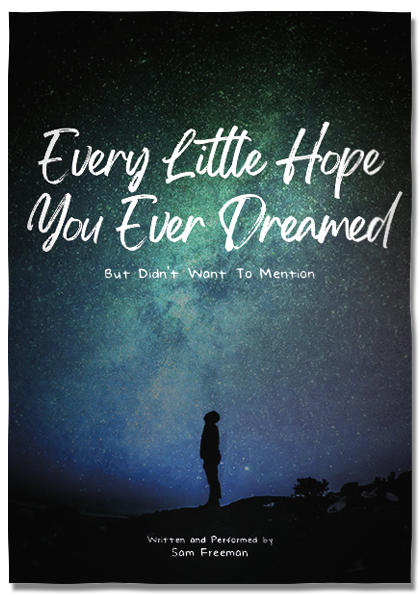 Every Little Hope You Ever Dreamed
I wrote Every Little Hope You Ever Dreamed (But Didn't Want To Mention) over the first six months of 2020. It was an idea that had been percolating for a year or so and all I needed was a push, or a prolonged intense period unable to leave the house. It's a love story and I've written and designed it to be as simple and easy to perform as possible. It's a follow on to the storytelling stand up I did around 2014 - 16.
The video below is of an R&D I did of the show at Theatr Clwyd in January 2021.

A few things to mention:
There is no audience - it's me, alone in a studio. All the lighting, sound and projection are controlled by me on stage. There are points where I chat to an imagined audience - I don't get much response because there's no-one there.
I stumble over a few lines - there's also a few moments when I read lines oddly, mostly I think because I'm enjoying a bit of alliteration I've just read.
This was the second time I'd done the show (the previous time being the previous day, also to an empty room) - so I'd hope it'd get a little slicker.
That's about it really. Please have a watch and then, if you enjoy it read the next bit below!
Touring
If you're interested in the show (and have, presumably enjoyed the video) then I'm considering touring it to perform at a few venues.
Deal is 60/40 split of the box office in the venue's favour* + accommodation + travel or if it's being run as a fundraiser then simply accommodation + travel.
Ticket prices are £10 (£5 for under 25s, £2 job seekers allowance)
I'd provide some marketing assets and venues (if they want) will get a "Supported by" credit.
I'll do a donations ask at the end of the show for the venue.
*Why such a good deal? Well, a) to reward your faith in me, b) I want audiences to see it,  c) so you'll consider booking my next show and d) to do something genuinely philanthropic to support our industry that I love.
Comedy
I started stand up in October 2012 after completing the excellent course run by Paul Smith (the now incredibly famous stadium filling Ginger King Of Comedy, but still I should add very humble) at Hot Water Comedy Club.
In the first few years I was runner up for Hot Water New Comedian Of The Year, a finalist in Southport New Comedian Of The Year and came third in XS Manchester's Comedian Of The Year. I was regular compere at Pros & Coms  in Liverpool and then Commo Comedy Club in Chester while gigging across the North West. I've gigged with Gary Delaney, Tom State (won't remember me as I was too shy to talk to them) and Tudur Owen (lovely guy). 
I've performed two solo shows, the first which epically long and not tremendously good, and the second which was pretty good but was seen by barely anyone. I'm now an infrequent gigger and spend my time predominantly looking after Commo Comedy Club and Theatr Clwyd Comedy Club
Theatre
I was a director, writer, producer and designed sets and sound for various productions. I trained at York St John College (University Of Leeds) with time at HKU Drama School in Utrecht, Netherlands.
My three performed plays are my first play Three Cheers For HRH, a short play written for the Stephen Joseph Youth Theatre when I was 16. Revenge was performed at York Theatre Royal (it was later adapted into On The Edge which was performed by Grin Theatre in Liverpool). Floating was funded by Arts Council England and premiered at Unity Theatre before touring nationally. My last directorial project was Chris Chibnall's footballing comedy Gaffer at Unity Theatre.
I'm currently working on a solo storytelling show.
Clips
These are a couple of clips of show I made. I've lots of other clips of me doing stand up, but, increasingly, I look back on them and think "what was I thinking", that's not to say they're bad, just not what I want to do now.