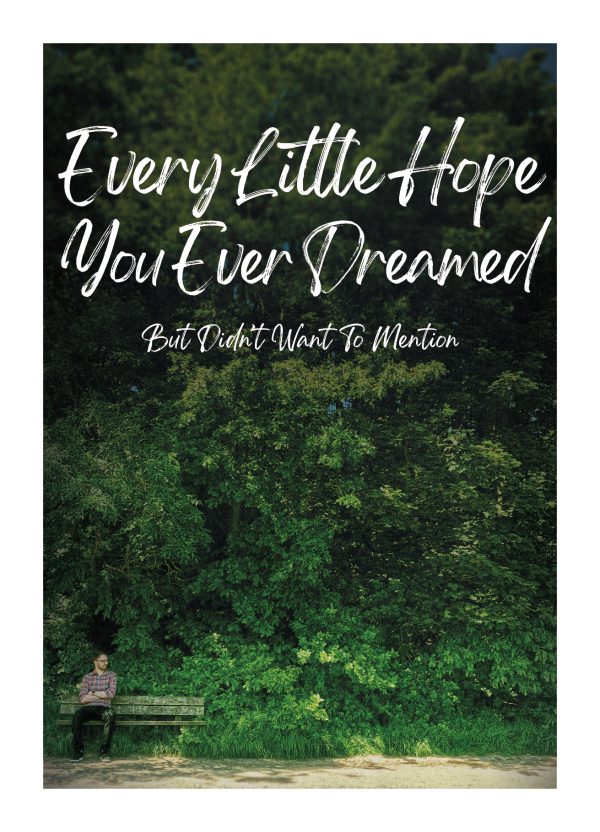 Every Little Hope You Ever Dreamed
Every Little Hope You Ever Dreamed (But Didn't Want To Mention) is a love story spanning 30 years, told, storytelling-style, by a man with a projector. Written and designed it to be as simple and easy to perform as possible it had a week of R&D in January 2021 and then three nights of previews in Summer 2021, both at Theatr Clwyd. The R&D and previews refined the show - updating the AV and music, changing the beginning and making the technical requirements simple - the lighting is five lanterns, all tightly focused. Get in takes approximately 1 hour, focus take 30 mins and get out takes around 40 mins.
The video below is of an R&D I did of the show at Theatr Clwyd in January 2021.

A few things to mention:
There is no audience - it's me, alone in a studio.
All the lighting, sound and projection are controlled by me on stage. 
This was the second time I'd done the show - the previews were slicker.
That's about it really. Please have a watch and then, if you enjoy it read the next bit below!
Touring
The show is touring in Jan to Apr 2022 and is available Saturday to Tuesday. There are no writer's royalties payable for this show and the sound and music is royalty free.
Technical Requirements
Get in takes 1 hour, get out takes 30 mins with 1 member of venue technical staff to help. The minimum lighting requirement is 4 rigged profiles (all without gels - the is one on stage practical), with a microphone (ideally SM58), mic stand and DI box into the venue sound system from the stage. 2 plug sockets are required for on stage power. Minimum stage size is 4m x 4m and a technican is require to operate some (12) lighting cues (but not sound).
One Nighters
70/30 split with a guarantee of £200 per performance
2 Nights
65/35 split with a guarantee of £175 per performance
3 Nights
60/40 split with a guarantee of £150 per performance
The deals are negotiable - depending on venue, location - for longer runs we'd need to discuss it a bit!
Recommended prices are £10 (£8 conc). Show includes flyers, posters & press release.
Just dropping you a line to say loved the show on Saturday. Well done. For me it was a cross between Izzy Suttie's 'love letters' and is it Tom Wrigglesworth that regularly rings his parents in his show-both radio. Anyway I'm a fan of them both too.
I just had to email to say how much we enjoyed the performance tonight. What a wonderful, intricate, clever story! We loved it. At the last telephone message I had a tear in my eye I was so invested in the outcome.
@ClwydTweets fabulous storytelling by @MrFreeman1984 this evening, my first bike was red, they are the fastest and people who fold the corners of books should be punished, don't get started on KitKat etiquette. Absolutely fab evening, Diolch x 
We enjoyed it, both times. And now we will be wanting to know what you've changed! Thank you for sharing this story with audiences.
Beautiful show for my first in the flesh return to the #theatre tonight. Just @MrFreeman1984 proving @ClwydTweets really is the home of sickeningly talented folk.
I thought it was captivating. And my theatre buddy, a hard-to-please Russian, was smitten. Absolutely more people should get to enjoy this, it's gorgeous.
We came to see this performance last week. Absolutely fabulous! Thank you
Comedy
I started stand up in October 2012 after completing the excellent course run by Paul Smith (the now incredibly famous stadium filling Ginger King Of Comedy, but still I should add very humble) at Hot Water Comedy Club.
In the first few years I was runner up for Hot Water New Comedian Of The Year, a finalist in Southport New Comedian Of The Year and came third in XS Manchester's Comedian Of The Year. I was regular compere at Pros & Coms  in Liverpool and then Commo Comedy Club in Chester while gigging across the North West. I've gigged with Gary Delaney, Tom State (won't remember me as I was too shy to talk to them) and Tudur Owen (lovely guy). 
I've performed two solo shows, the first which epically long and not tremendously good, and the second which was pretty good but was seen by barely anyone. I'm now an infrequent gigger and spend my time predominantly looking after Commo Comedy Club and Theatr Clwyd Comedy Club
Theatre
I was a director, writer, producer and designed sets and sound for various productions. I trained at York St John College (University Of Leeds) with time at HKU Drama School in Utrecht, Netherlands.
My three performed plays are my first play Three Cheers For HRH, a short play written for the Stephen Joseph Youth Theatre when I was 16. Revenge was performed at York Theatre Royal (it was later adapted into On The Edge which was performed by Grin Theatre in Liverpool). Floating was funded by Arts Council England and premiered at Unity Theatre before touring nationally. My last directorial project was Chris Chibnall's footballing comedy Gaffer at Unity Theatre.
I'm currently working on a solo storytelling show.
Clips
These are a couple of clips of show I made. I've lots of other clips of me doing stand up, but, increasingly, I look back on them and think "what was I thinking", that's not to say they're bad, just not what I want to do now.