I am an experience arts marketeer with expertise in venue, campaign and tour marketing, branding and strategy, digital and social media marketing, organisational change and design. 
In 2001 I started working as an Usher at the Stephen Joseph Theatre in Scarborough. In 2003 I moved to York and was part of York Theatre Royal's front of house, box office and then marketing teams, developing my skills and working on productions. In 2009 I was co-Artistic Director of York's inaugural TakeOver Festival before moving to Liverpool to become Marketing Manager of Unity Theatre. After six years at Unity which included rebranding, new websites, directing and, on one occasion, performing, I moved to Wales' Theatr Clwyd as Director of Marketing & Communications.
Digital & Social Media Marketing
Season & Campaign Planning
Pricing & Data - Research & Delivery
*It's not that I'm bad at it, I can do the basics, but there are better people out there.
'I'm not a great designer' is an odd opening sentence when telling you about my design skills. If you're looking for imagery creation or original artwork making, artistic design that will make your heart sing then I'm not for you (try Anonymous Design or Dreamfly, both of whom are excellent). I have designed show images, but largely they've been functional rather than inspirational.
What I am good at however is artworking at speed, in particular creating the multitudes of different pieces of print you need for a campaign. I'm also good at season brochures, finding a clarity, simplicity and conciseness of design that is really useful for clarity of message.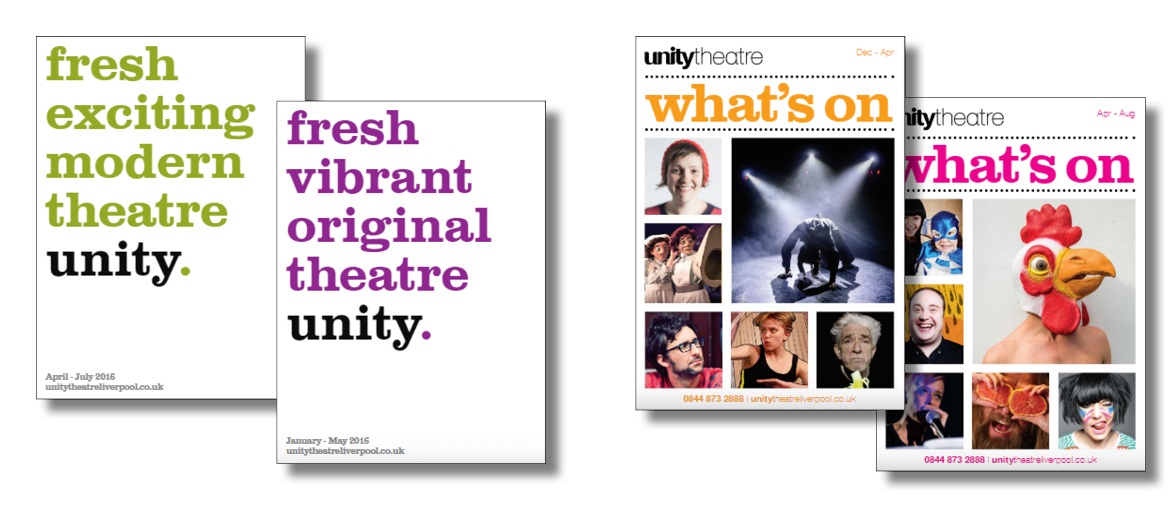 If your project is one that excites me, or is getting you out of a hole, or you're an arts organisation with little resources then I'm likely to be really affordable (and occasionally pro-bono). If it doesn't excite me then I'm (at the moment), unlikely to take it on (my taste is really variable so worth a try though!).
Artworking: A5 flyer - £50 | A4/A3/A2/A1 poster (single design) - £50 | Brochure - £25 per page
Please bare in mind that I rarely work freelance due to the commitment of my full-time role. However, if you need help and are venue-based (as this is what I'm best at) then get in touch. The worst that will happen is that I redirect you to some ace people.