Hey Everyone,
This is a long post (sorry). Just over a year ago I wrote a show, "Truth" which I performed at 81 Renshaw Street on a double bill with my good friend Rob Thomas as a work-in-progress. The show lasted an hour and was a reasonable success, so much so that I decided that the following year I'd go to Edinburgh, win the panel prize, quit my job and become an urban comedy legend. Suffice to say I didn't get a room in Edinburgh (100% bitter), was therefore ineligible to win the prize and am still working in marketing. Then about 3 months ago I was asked if I wanted to do the show in York by a mate, so I drove to York and people actually turned up to see it, annoyingly however this was massively undermined by the fact that the venue cancelled the gig for no apparent reason 30min before I was due to start. Only a 6 hour round trip but who's counting.
SO that gets us here. My good friend Alastair Clark (and top beard grower) asked me if I wanted to do the show for Liverpool Comedy Festival this year which I duly agreed to. The problem is that there is a real risk that noone will turn up. I'll be frank now, the show is good, it's funny but if it had gone to Edinburgh then I would now be wallowing in thousands of pounds worth of debt. It'll also, I think, be the second, and last time I perform the show, so a real opportunity to join the 23 people who saw its first performance and say "I walked close to the sun".
It's on the 18th of September at 9pm (yes it's late), and it's £5 to get in (or £7 if you see Jack Lewis Evans' show as well – which is, and this is a press quote, "snappy" ★★★★ Wee Review).
So please, if you read this do one of 3 things:
1) Share this post and/or the event
2) Come to the gig (if you hate it I'll buy you a pint afterwards)
3) Say you'll attend on the event below (even if you don't that's ok).
So that's about it really. Thank you for reading.
Lots of Love, Sam Xx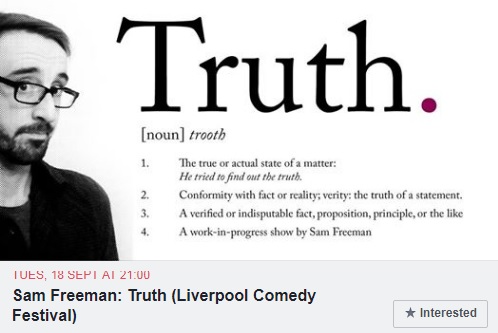 Enjoyed this? Give it a share!